40 Fun and Festive Easter Dessert Ideas
In my family, we usually have holidays at my grandma's home. She supplies the main dish of the meal for Easter probably a Ham, Christmas or Thanksgiving a turkey other something. The other people bring sides, rolls, drinks, etc. Now I don't like to cook but I do like making desserts I'm not particularly good at them most of the time but I'm better at desserts than anything else.
Plus Bella likes to help with desserts, probably because she can sneak little bits of sweets here and there during the making of it. So I have put together a roundup of some fun Easter desserts you can make, I've tried to find a good mix of flavors and talent level required to make them.
1. These Chocolate pretzel Easter Nest's are almost too cute to eat.
Note: This post may contain affiliate links, which means if you buy from my link I might make a small commission. This does not affect the price you pay. See the full affiliate disclosure here.
2 For the chocolate lovers, you could make this Easter Egg Chocolate Mousse.
3. I love cupcakes so these Bunny cupcakes are just perfect. So cute!
4. These Bunny cookies would be a big hit with the kids! The adults too I'm sure.
5. I love coconut so these Spring Nest Bundt Cakes sound great. No one else in my house like coconut, crazy people
6. This Easter Candy Bark is supposed to be super easy, so I like this one!
7. More complicated but this Angel Food Cake with Strawberry Sauce sure looks tasty.
8. Another easy and fun choice, flower pretzel bites. I think Bella would like to make these.
9. I want to try some so I need to make this Easter Oreo Bark.
10.I'm not Vegan but I know a lot of people are so here are some Vegan Easter cupcakes.
11.I love the dessert puppy chow and this Bunny chow looks great as well
12.These look like fun, little Peep Dirt Cake Cups. Pretty easy as well.
13. Popcorn is one of Bella's favorite snacks so this Easter Candy Popcorn would be something she'd love
14. These look like fun little Easter pudding cups to make with your kids
15. Rice Krispie Treats and peeps, so fun. Try these layered peep treats.
16. Aren't these just the cutest bunny ear cupcake toppers?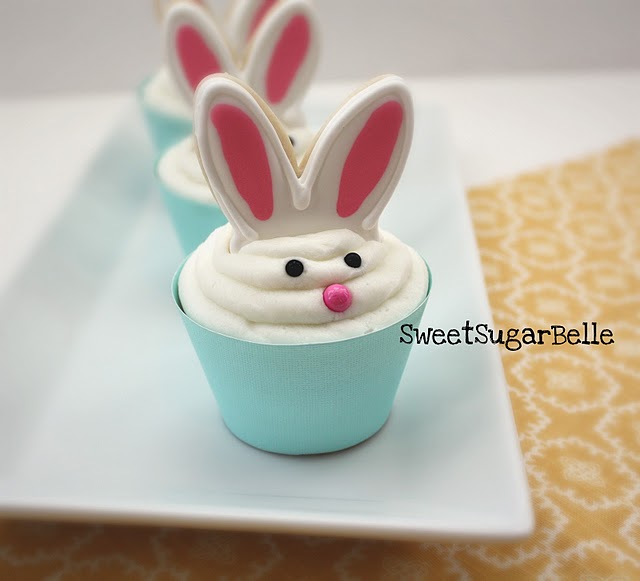 17. I'm loving this super cute Peeps Easter Bunny dirt cake
18. Oh, my goodness look how good these Easter Egg cookie dough Truffles look.
19.  I love fudge and this Easter Egg Fudge looks so good.
20. These lemon cookies are so pretty and bright for springtime and Easter.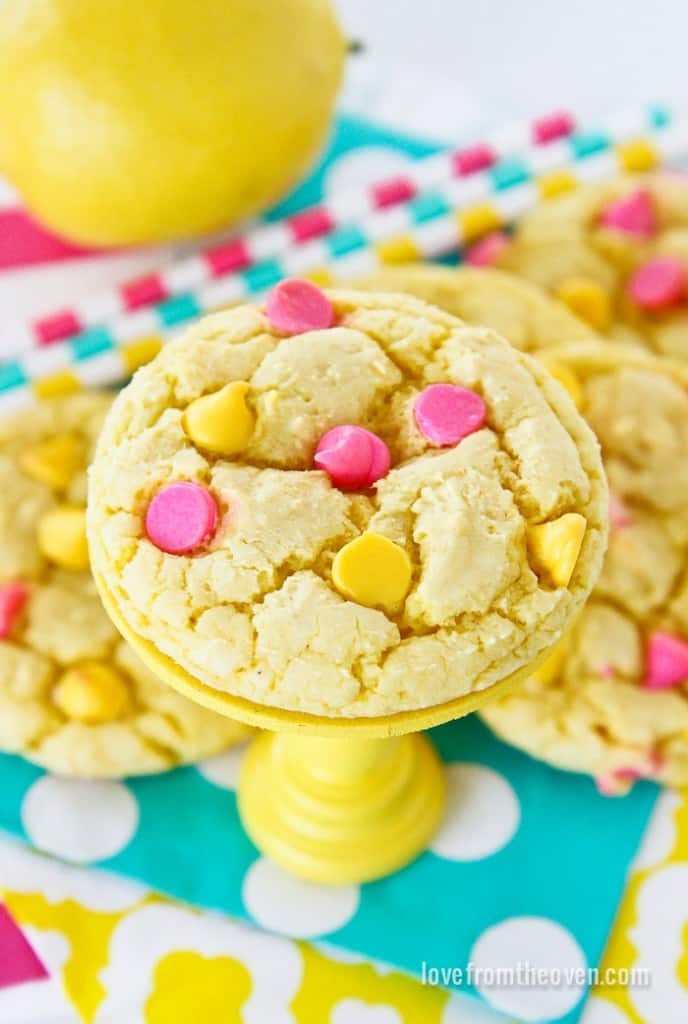 21. These Mini Carrot Cake Cheesecakes sound like a fun Easter dessert idea.
22. This is so cute, a Chocolate Easter Cake with a bunny on top.
23. Another super cute Easter cupcake idea.
24. These Chocolate Covered Ritz Peanut Butter Patties all decorated for Easter.
25. Chocolate Dipped Berries decorated as Easter Carrot treats.
26. Easter M &M Thumbprint cookies
27.  Super cute Rice Krispie treat bunnies.
28.These absolutely delicious looking Chocolate Thumbprint Cookies are a Fun Easter Dessert idea to try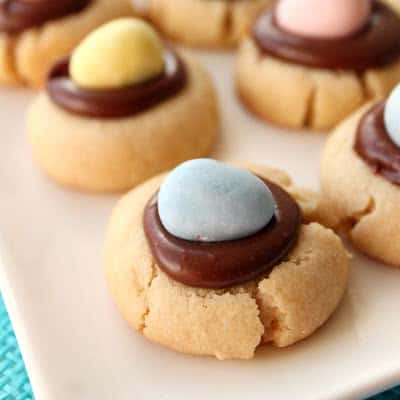 29.  These Peanut Butter Chocolate Nests seem like a fun and easy option for Easter
30. These Easter Basket cookies are seriously so adorable.
31. Don't these Jell-O Easter Eggs look fun
32. For the Carrot Cake lovers, these carrot cake cookies with cream cheese frosting would be a hit.
33. Super Easy Easter Marshmallow Bark
34. Peeps cupcakes with a surprise inside. How Fun!
35.  Easy Easter cookies with only six ingredients.
36. Chocolate covered strawberries that look like carrots.
37. Spring confetti bars with M&M's
38. Chocolate covered pretzels decorated for spring
39. Homemade Reese's Eggs (Reese's eggs are my favorite treat)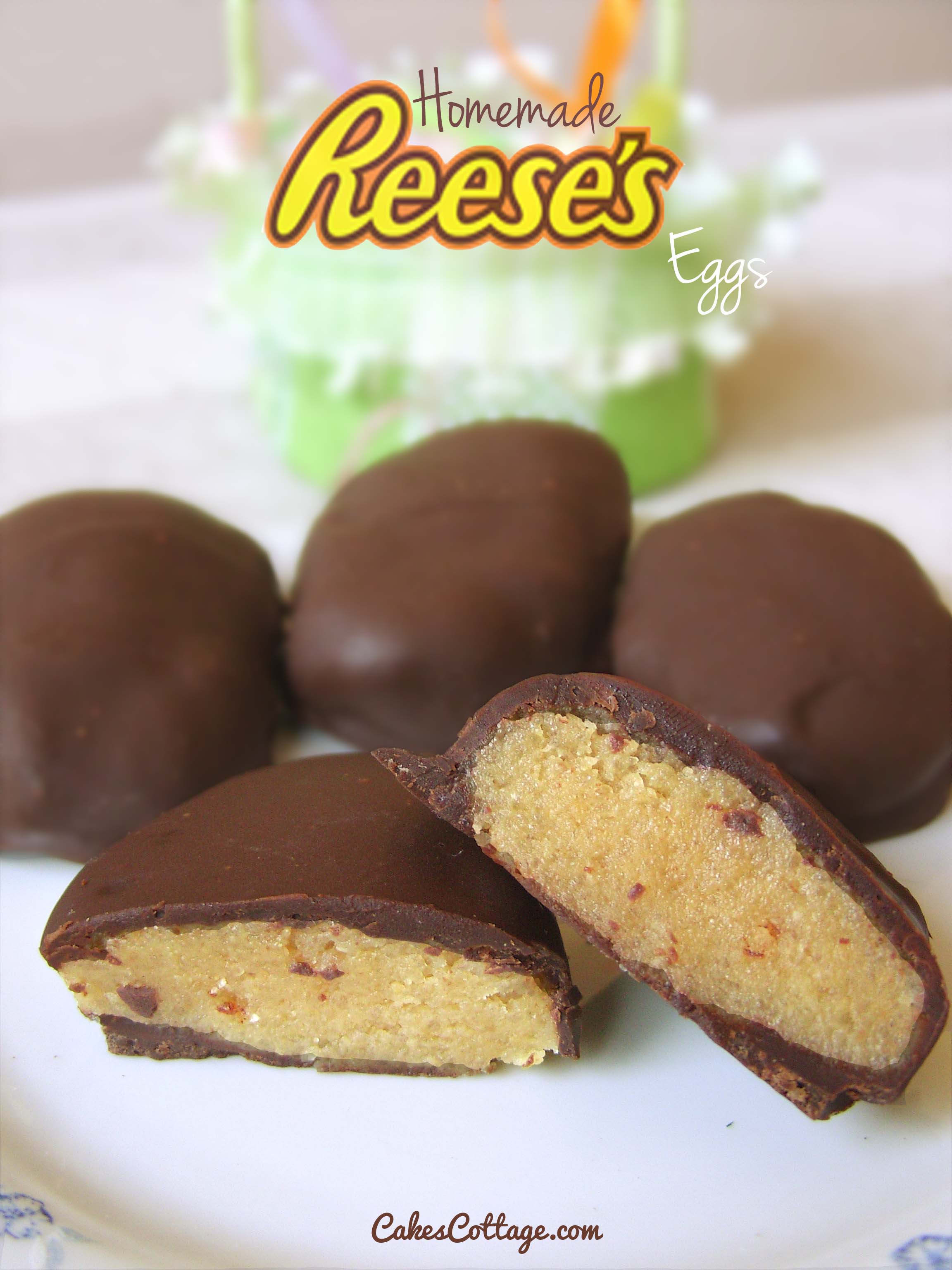 40.  Fresh Strawberry cake that looks pretty simple to make.
I hope that I have given you some ideas for fun Easter desserts to make. I tried to include lots of different flavors since not everyone likes the same thing. Also, I tried to make it a fun mix of cookies, cupcakes, candy, and such. A little something for everyone's tastes. Now I will have to decide what we will try to make.