50 Fun Decorating Ideas for Halloween
It's only the beginning of August but I'm already thinking about the Holidays. Maybe because this year has been so crazy and kind of bleak. So I'm looking forward to Holidays and decorating even more than during other years.
So I've rounded up some of the best Halloween Decor ideas that I can find so that if you are feeling like decorating more this year you will have plenty of ideas and options to try out.
Note: This post may contain affiliate links, which means if you buy from my link I might make a small commission. This does not affect the price you pay. See the full affiliate disclosure here.
DIY Halloween Decor
1 This Horror Novel Door Decoration which as a big reader I love this idea and think it's so simple yet creative
2 These Spooky Ghost Gourds which only need three supplies so it's very simple to make.
3 If you use coffee pods these Coffee Pod Ghosts are a great DIY decoration
4 These cute Spider Web Votive Holders
5. This Halloween Candy Door Hanger would be great to have up at a Halloween Party or to fill up throughout the month or week of Halloween a few times.
6 Check out this great How to Make a Halloween Wreath Post. So cute!
7 Even though I don't like Candy corn. I love these Candy Corn Candles that are so cute.
8. These super Easy Hanging Ghosts that you can put around your home
8 These Easy Mason Jar Luminaries ready for Fall and Halloween
9 I love this adorable Candy Wreath idea. So cute and delicious
10 If you've got a staircase this Jack o'lantern Stairs idea is so fun
11 This black twig wreath is a perfect project for Halloween
12 You can make some Wicked Witch Legs and get creative with what shoes and socks you use
Inexpensive Halloween Decor ideas
1 These simple but adorable Spirit Jugs made out of Milk Jugs
2 These cheap and Easy Gold Skeletons that you can make with dollar store skeletons
3 For a colorful and fun decor idea check out this Melted Crayon Pumpkin
4 Have a bunch of Lollipops turned in to decor with these adorable Lolly Pop Ghosts
5. I love this inexpensive Skeleton Hand Wreath would look so good on your front door
6 This Spider Halloween Vase made with stuff from the Dollar Store
7 Make your own adorable and inexpensive fabric Wreath
8 These DIY Halloween Tombstones made from cereal boxes.
9 These Halloween Cages that are made from things from the Dollar store so will hardly cost you anything
10 This fun pumpkin Totem pole made from colorful plastic jack o'lanterns
11 This adorable Halloween Wreath made out of cupcake liners. What a clever idea.
12 Make these adorable Halloween tea lights out of recycled baby food jars
13 These really inexpensive Witches Brooms where if you can find the materials might cost you nothing
14 These Easy Lighted Hanging Ghosts made from dollar store materials.
Outdoor Halloween Decor
1 If you have a large enough yard which I don't but I love this Pumpkin Archway
so I wanted to include it in this roundup
2 I just love this super cute Mummy Door which is perfect is you want more cute Halloween and less creepy or scary.
3 These kinda creepy floating Head Hanging Ghosts
4 This is a great tutorial for how to make a Tomato Cage Ghost
5 Why not give making this Rustic Halloween Sign a try. I think it's adorable
6. These Halloween Porch Decorations made out of recycled boards you may have lying around
7 Check out how to make these not too creepy Halloween Spiders for your porch or yard
8 If you've got a lot of leaves on your property in the fall Ghost Leaf Bags are a cute and festive solution.
9 These Glow in the Dark pumpkins are such a fun idea. I bet my daughter would love to do this so we might be making these for this Halloween.
10 How sweet are these Black Cat Pumpkins. Perfect for Halloween but cute not scary.
11. How great is this lighted pumpkin topiary that you could make for your front yard or porch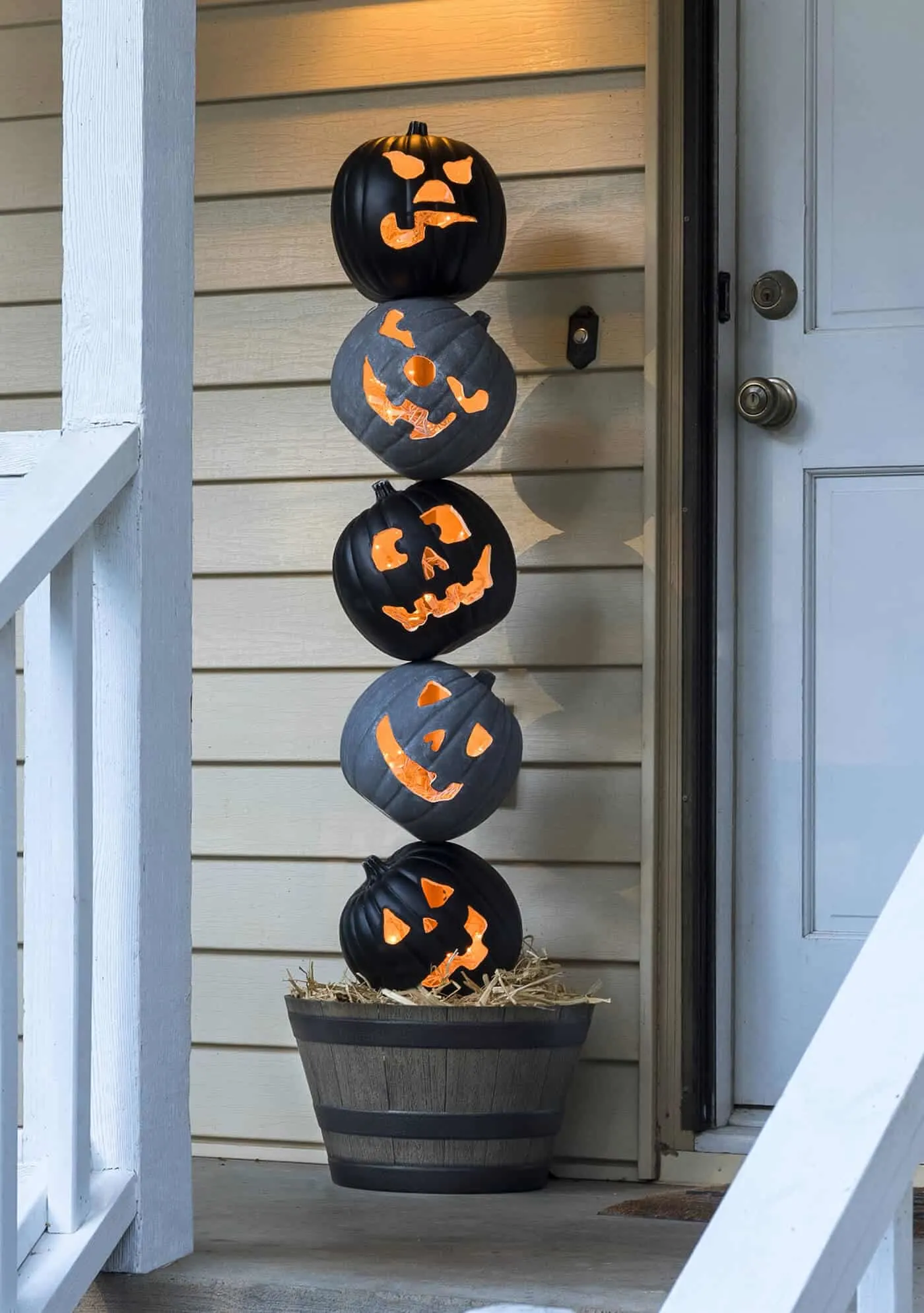 12 These giant spiders perfect for outside or if you make them a little smaller they can work indoors too.
Not DIY Halloween Decor
If DIY is not your thing or you just don't have time to do any DIY projects right now. No problem here are some cute Halloween Decor ideas you can just order.
1 Target has some great Halloween Stuff. I'm loving this Pumpkin kit from Nightmare on Christmas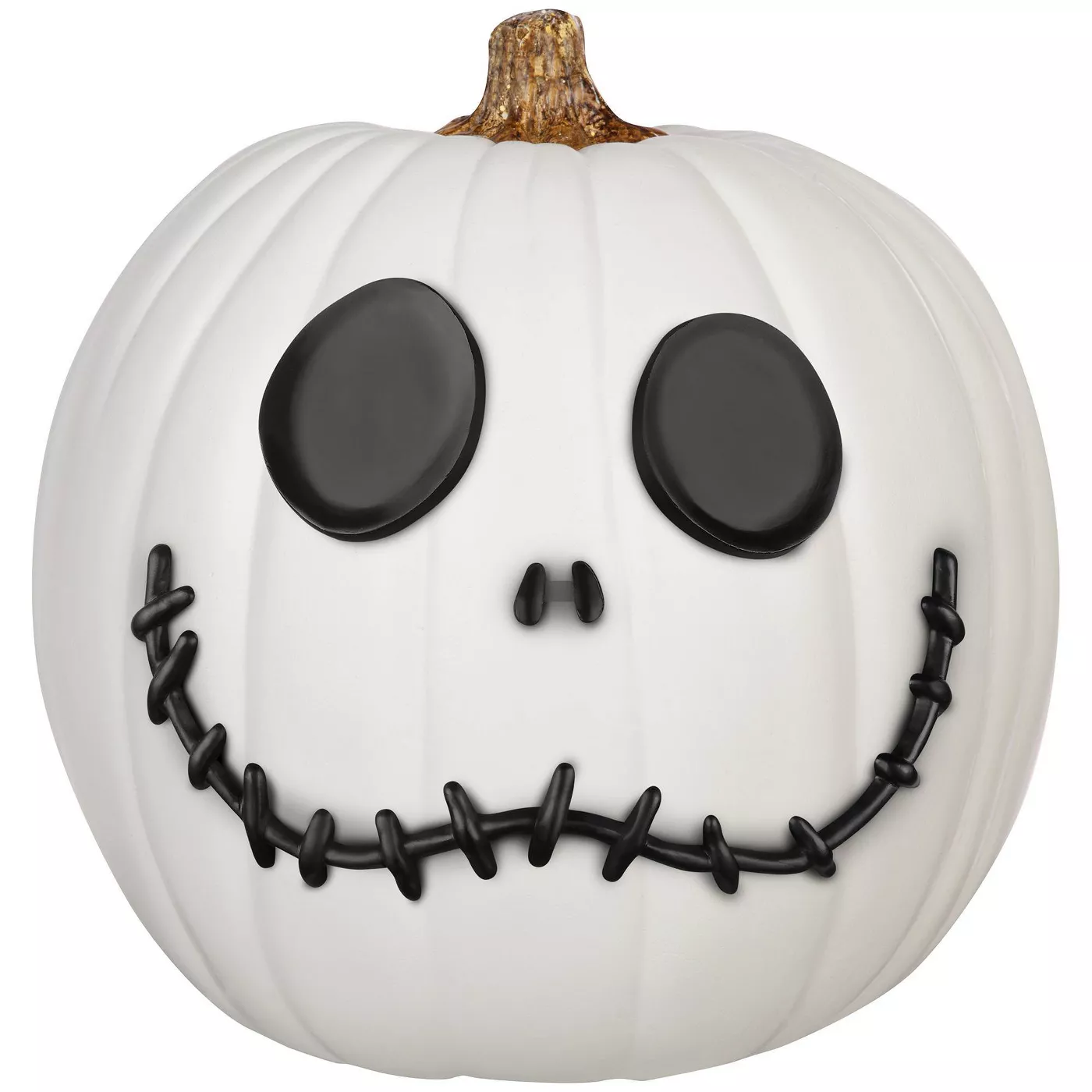 2 Target also has some great wreaths for Halloween. Like this skull wreath that would look great on your front door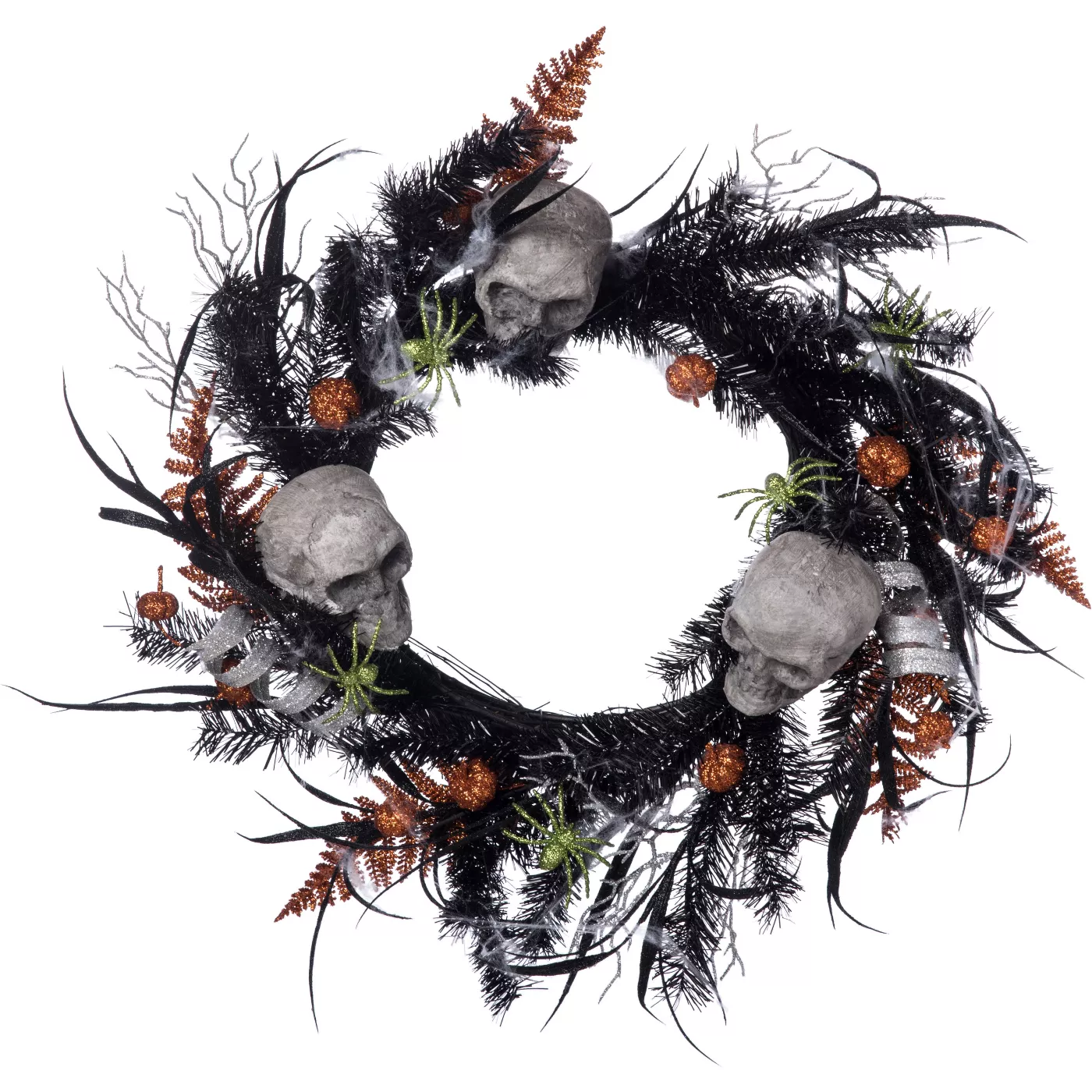 3 You have to check out this adorable Halloween Tree from Michaels
4 Don't you just love the look of these stacked pumpkins ? I love them.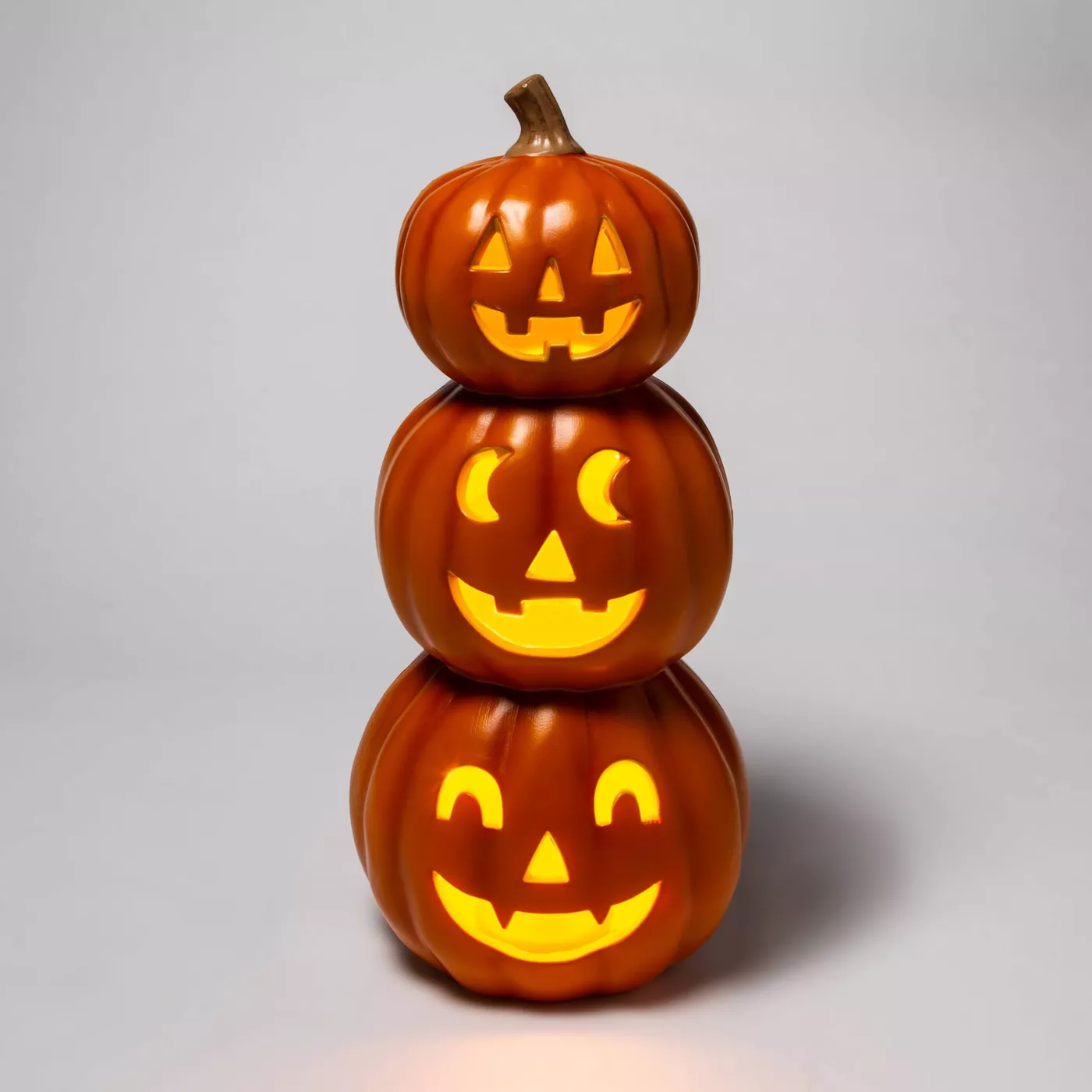 5 Pillows are such a great way to style for the holidays. These Halloween Pillow covers are adorable.
6 This awesome light up Trick or Treat sign from Home Depot is so cute
7 These Battery Powered Light up Witch Hats with remote control that can be used indoors or outdoors
8 I love seasonal Door Mats, we have quite a few. This Halloween Door Mat is so cute
9 This fun set of three Skull Candle Holders is a great way to decorate if you love candles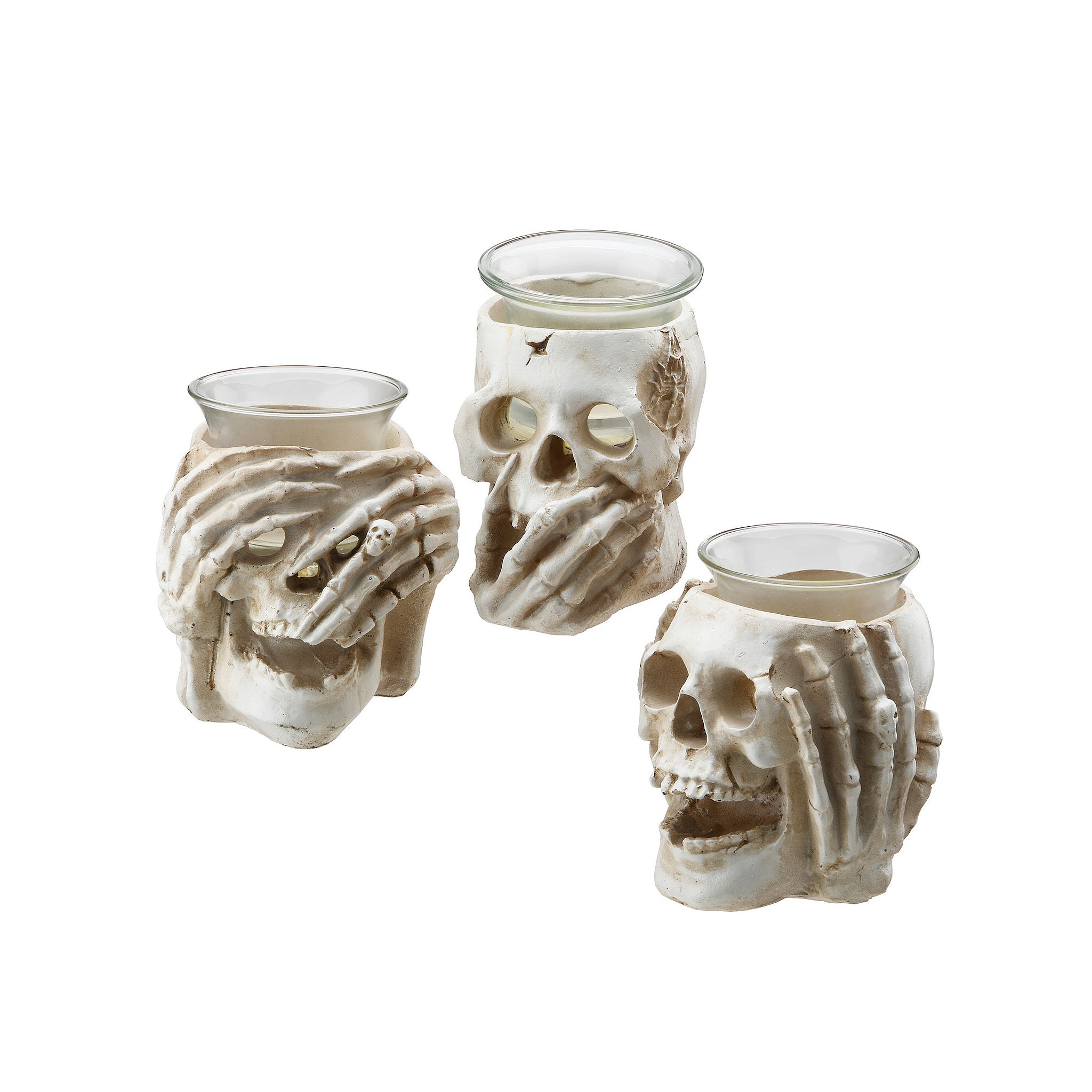 10 These Hanging Halloween Sign Banners for Your front porch are a great way to decorate for the holiday
11 As a huge Hocus Pocus fan, I want to get this Hocus Pocus sign for my home. I just might get it this year because it's so cute.
12 This Happy Haunting Porch Easel which I think is just so cute